We aspire to combine the best-possible product quality and service with effective environmental protection and social responsibility. To achieve this, we work closely together with our customers, suppliers and a variety of federations and organisations.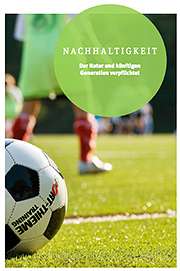 Sustainable development means that our current standard of living and future activities should not burden future generations or other nations, nor should they question other species' right to live. Instead, development should be socially, economically and ecologically balanced whilst preserving our livelihood.
To be able to manage sustainable practices more sensibly and to make them more transparent for our stakeholders, we publish a sustainability report every 2 years. In the current, second report we outline the status quo at Sport-Thieme in relation to the factors mentioned on over 50 pages.
The report is targeted at our customers and suppliers, employees, politicians, authorities and non-governmental organisations (NGOs), as well as people in the regions that we are active in. It shows which essential social and ecological, but also economic challenges are associated with our core activity. In addition, we report, wherever possible, about potential conflicts of objectives which arise, and which strategies we have developed for this.
From sustainable resources
Look out for this label on gymnastics products.
It guarantees that our products are made from sustainable resources.